Jules Frank College Scholarships
Our Kiwanis club presents a $5,000 college scholarship in the name of Jules Frank every year to an active Key Club member who is a graduating senior beginning college in the fall. The selection emphasizes community service rather than academic or athletic accomplishments.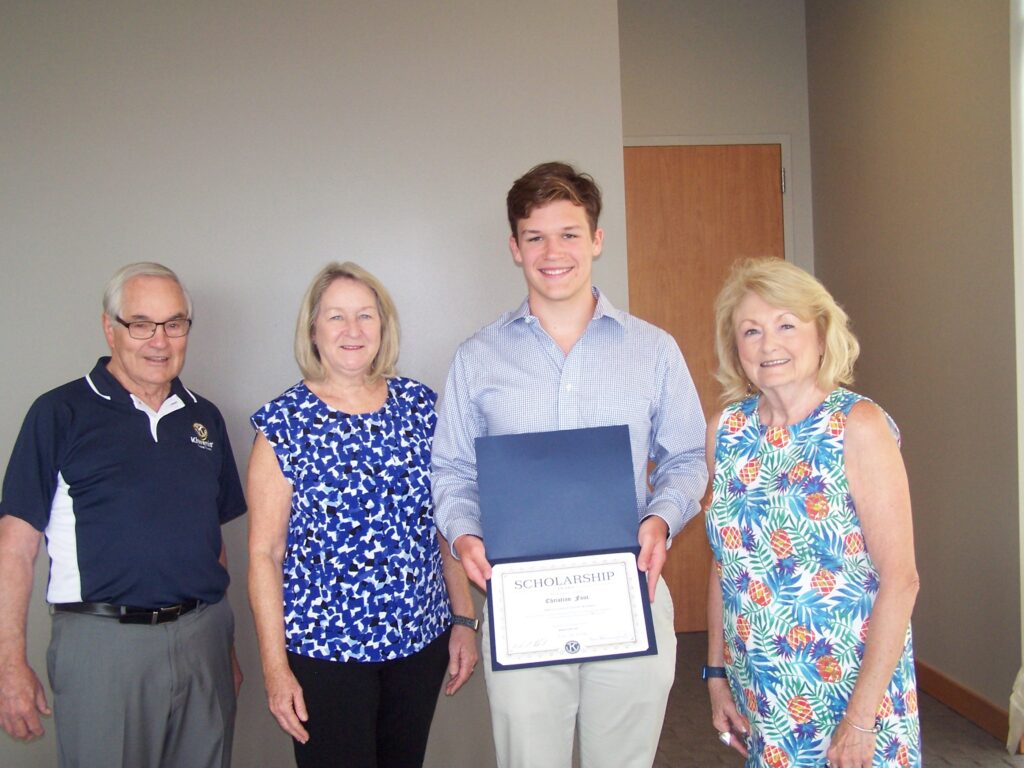 Our 2022 Jules Frank Scholarship winner is Christian Font – the tall, young guy. Pictured, from the left, are Bill Black, our club president, Bonnie Hicks, Christian's grandmother, Christian, and Joan Davis, Scholarship committee co-chairperson.
Christian graduated from Kecoughtan High School and will attend Virginia Tech this fall. Christian was the president of the Kecoughtan Key Club and although the pandemic has limited the Key Club activities, Christian has continued his community service through volunteering as a swim coach, teaching children how to handle themselves in and around water.
Our club president, Nana Ferdnance, on the right, is shown with our 2021 scholarship winner, Rachel Walker. Rachel received a check for $4,000.
Rachel is graduating from Hampton Roads Academy and will attend the University of Mary Washington.. She was a Kiwanis Key Club member, serving as secretary in her junior year and president in both her junior and senior years.
In addition to her Kiwanis Key Club activities, Rachel also served two years as the president of Tri-M Music Honor Society. She also served on the City of Hampton's Citizens Unity Commission's Youth Advisory Group.
Rachel's record of community service certainly qualified her as a leader and well deserving of the Jules Frank Scholarship.
A close runner-up was Molly Johnson, who received a check for $1,000. Molly is graduating from Isle of Wight Academy and will attend James Madison University Honors College.
Molly also is a community leader. She participated in Key Club service projects for all four years of high school. She has given her summers to volunteer projects such as the Appalachia Service Project and service on the Navajo Nation Mission Team. Her academic record is also quite impressive.
 The Jules Frank Memorial Scholarship Scholarship is an award of $5,000 for one year to a student attending college in the fall of 2023.
Award Guidelines:
Student must be a high school senior and current member of a Key Club in a school in Newport News, Hampton or Isle of Wight County (Kiwanis Division 13)
Leadership qualities and community service will be primary attributes considered.
Membership and positions held in honor societies and other honors received will be considered.
Applications should include:
Student applicant's name, address, phone, email address, age, high school attending and college attending (if known).
Key Club positions, recognition, and activities.
Other pertinent school positions, recognition and activities.
A narrative of no more than 500 words, describing your best leadership qualities and how you have used them to benefit your club, your school and your community.
Timeline:
Applications due no later than May 5, 2023.
Winner will be notified by June 6, 2023.
Winner can expect to receive the award while in attendance at our Kiwanis Club meeting (Wednesday mornings) by June ,30.
Questions?  Contact Jennifer Parish, Scholarship Chair, 757-825-6200
Mail application to:         Peake Childhood Center                                                                         
                                           C/O Jennifer Parish
                                           1306 Thomas Street, Hampton , VA 23669